Working from home is a reality for many of us. Whether your space is a dedicated room or a corner of one, have you put much thought into decorating your home office?
Nearly half of the Australian working population began working from home in mid-April in 2020. For many it was a massive shift, and setting up a home office was a mad scramble.
In some houses, there's a door between the office and the rest of the house, but in others, the dining table has become the place of business.
Whether large or small it's well worth dedicating some time into making your office space functional. And it never hurts to make it look pretty too.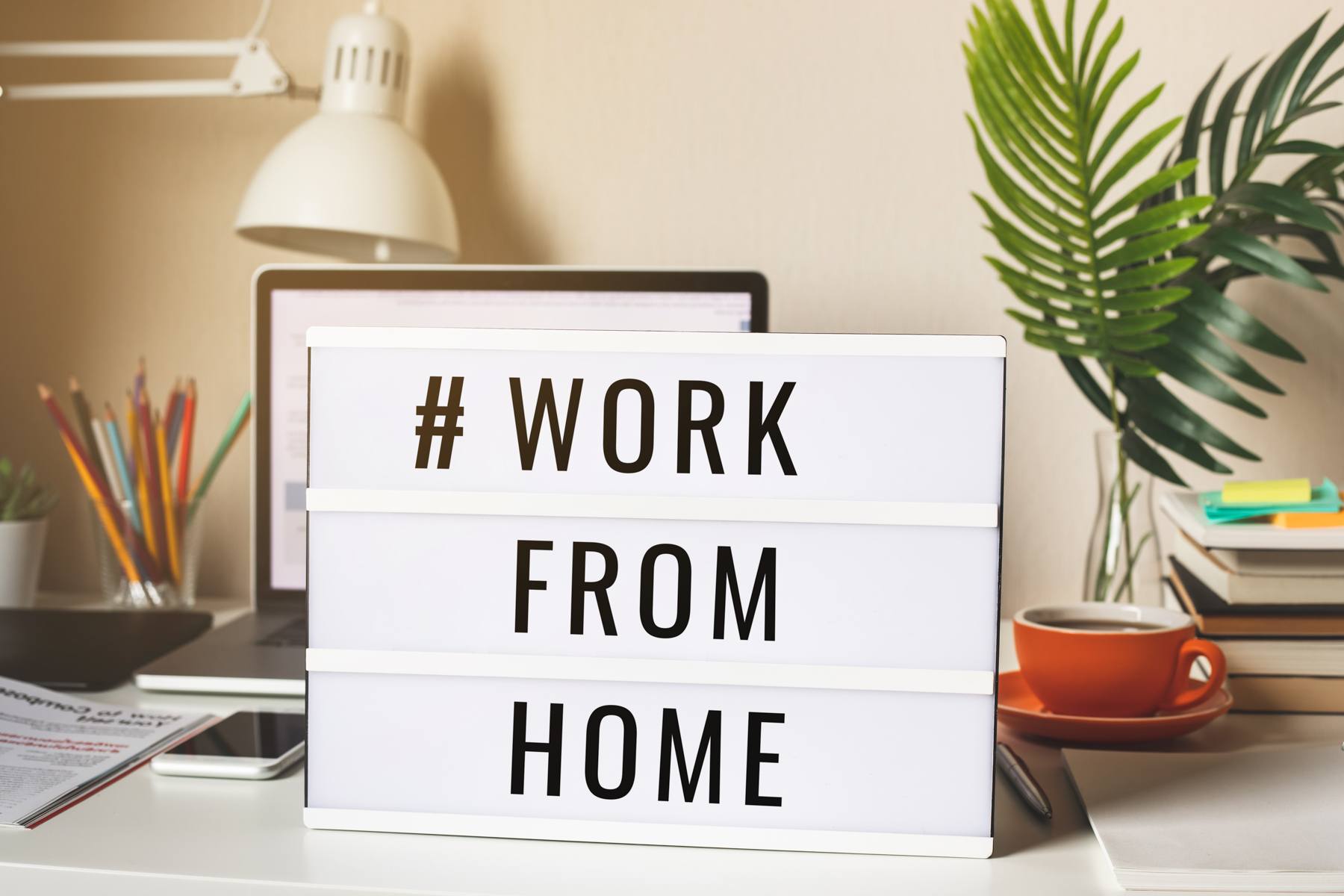 Five things to consider when decorating your home office
Finding the balance between function and aesthetic is crucial. We all know that our surroundings can greatly impact our productivity and even our emotional wellbeing. But obviously, we need to ensure we can do our jobs effectively and efficiently too.
1. Choose the right work area and station
The first, and perhaps most important thing to consider is finding the right desk. Of course, this will depend on the position of your workspace.
If it's borrowed space – an unused landing, space under the stairs or a corner of a different room – a small desk, an overhead shelf and some good lighting will do. 
When it comes to ergonomics (which are essential for your health), make sure the chair you're sitting on provides the right kind of support, ensure your laptop and monitor are at eye level and if you wish, you can even get a stand-up desk.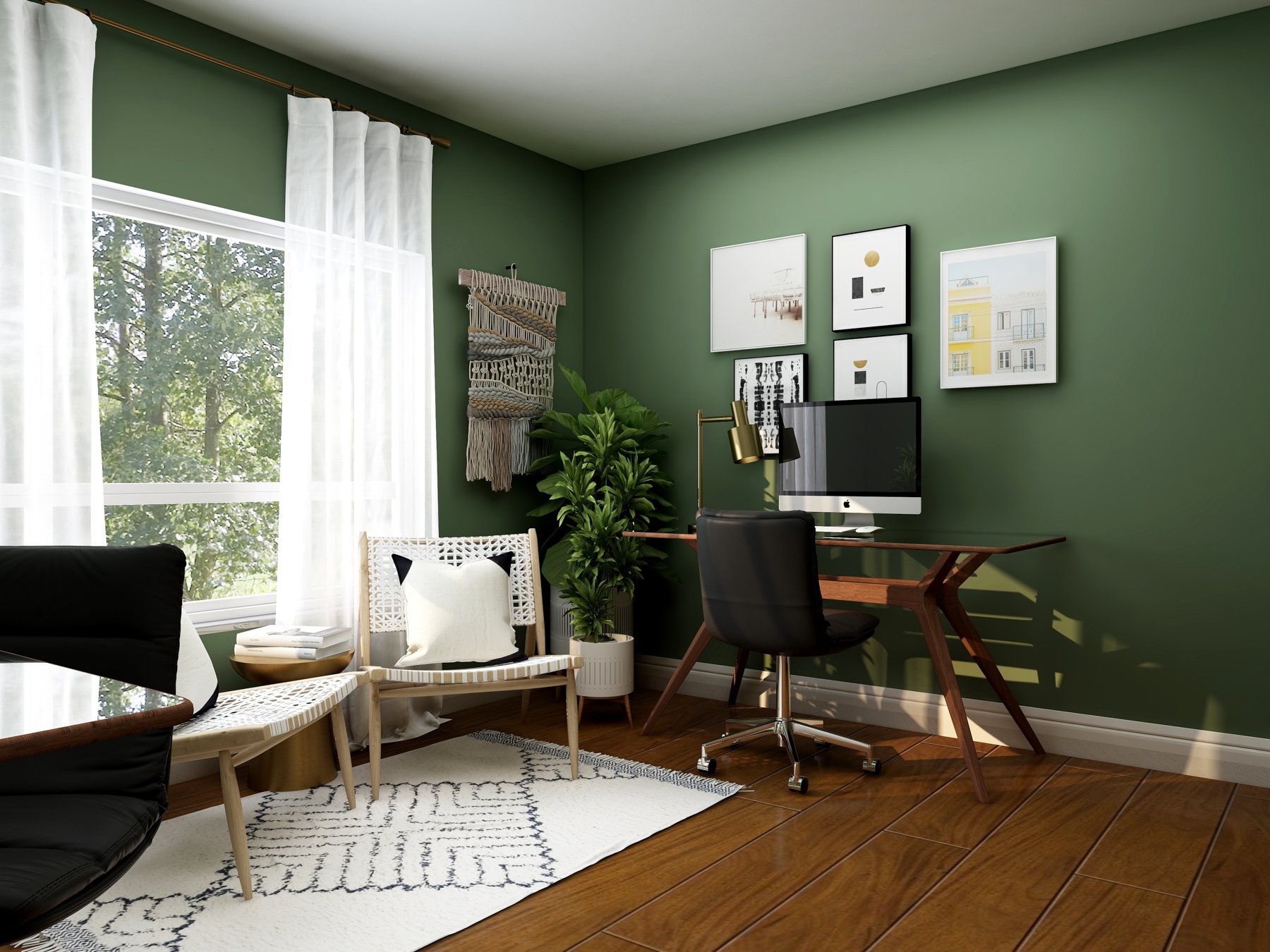 2. Decorate
As we said before, it's not just about functionality. You want your work area or office to feel homey and stylish, while at the same time encouraging productivity. 
It can be draining to look at computer screens all day so definitely consider putting some artwork on the walls, photos that make you smile, decorative shelving to break up a blank wall or hanging some inspirational messages. 
Another idea to keep your space fresh is to use an air purifier or diffuser to keep the room smelling lovely. 
A tip here is to avoid candles as those create a bit more of a cosy feeling which you definitely don't want to encourage when you're supposed to feel invigorated for the work day.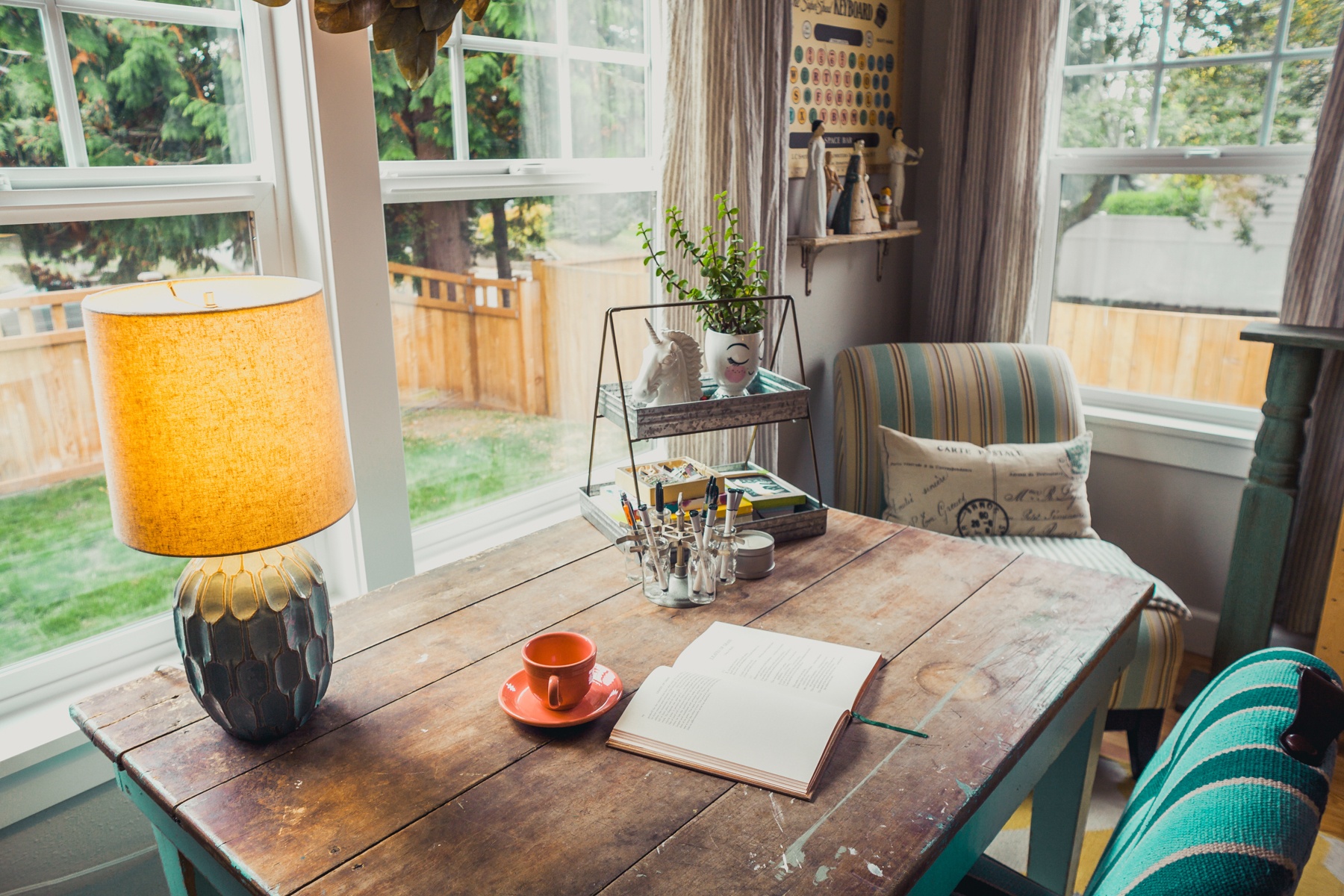 3. Get the lighting right
Natural light can make all the difference when working, especially if you're going to be spending the better part of five or six hours in the room. 
If you can, position your desk next to a window. Sometimes, it helps to simply gaze out of the window, waiting for inspiration to hit. 
Also, consider keeping your window coverings light and breezy. Some sheer curtains or some lovely shutters would be perfect. 
The shutters are a good option for those work spaces that face west, so you can control the natural light without closing them completely. And the sheers create a beautiful, calming aesthetic. 
Making sure the artificial lighting is done correctly is also crucial as it can really impact your eyes. A nice desk lamp to help you spotlight your monitors can help and choosing one that looks good adds some individuality as well.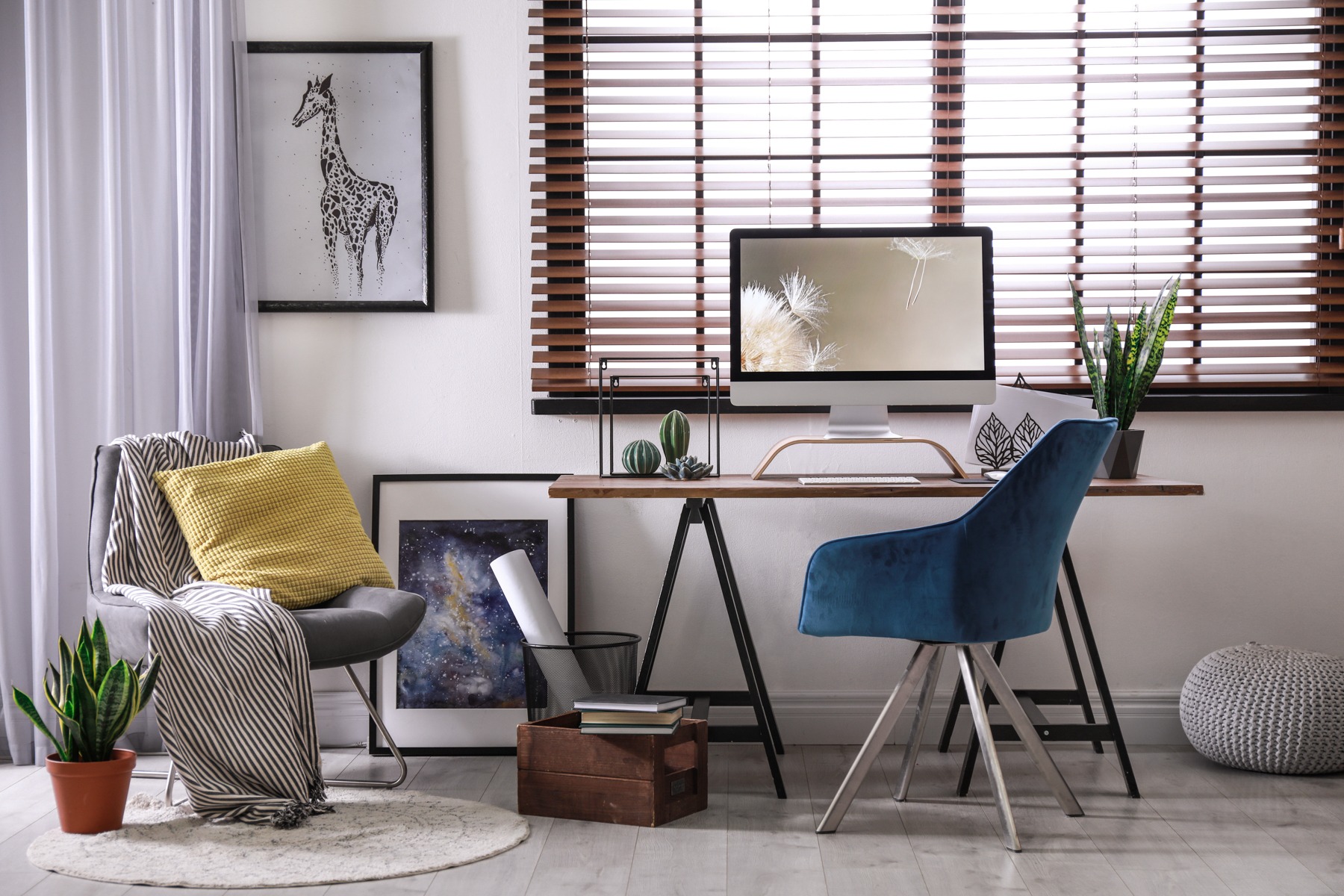 4. Add a touch of greenery
Don't underestimate the power of plants. Not only do they add some colour into your room, but they also add a sense of tranquillity, help to filter the air and can even help reduce noise, which, let's face it, can help loads with productivity when there are other people around.
There have been lots of studies about the impact of plants on the way we work, including the fact that indoor plants help with concentration, reduce stress and boost your mood. You can even mix it up with different styles, shapes and sizes.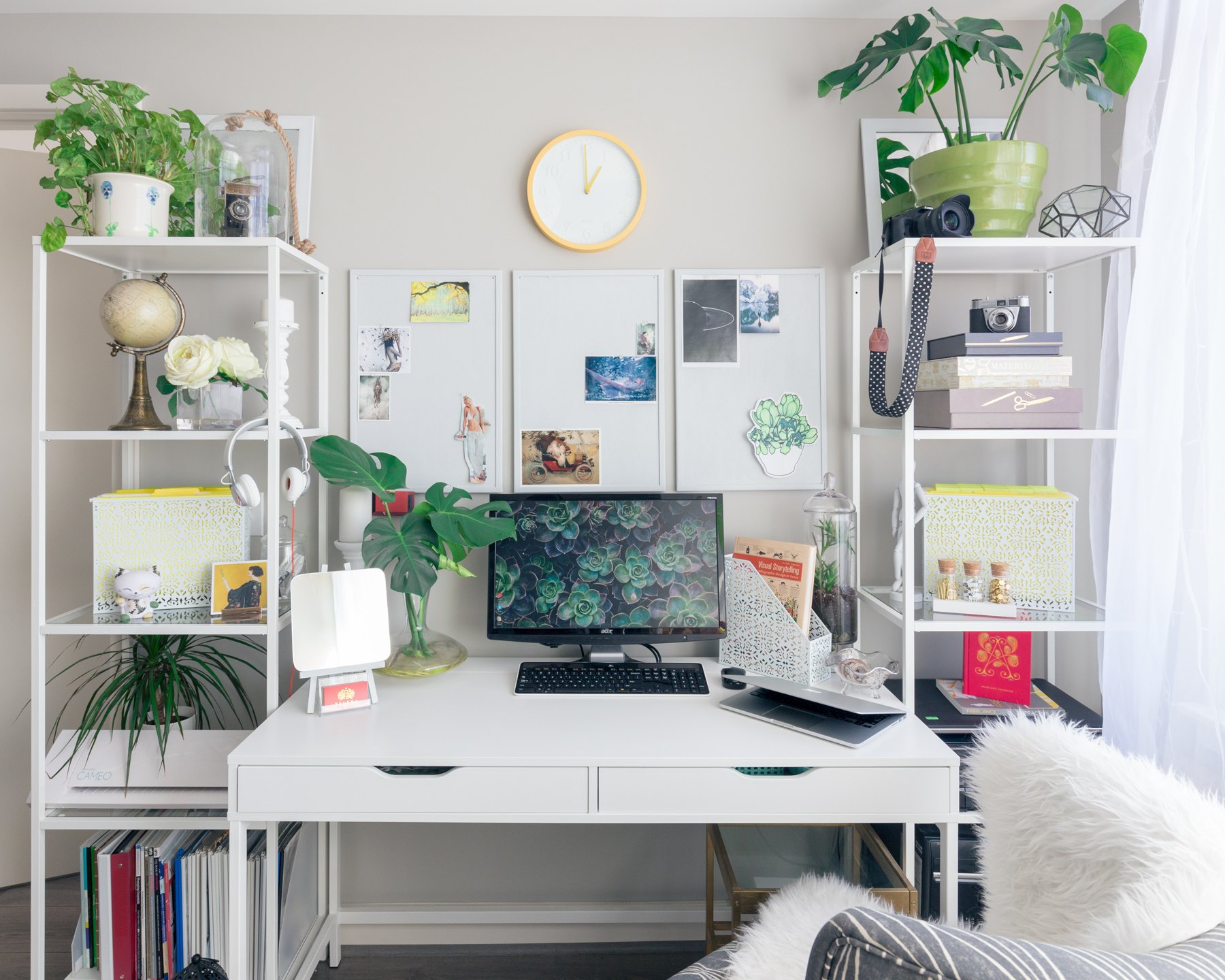 5. Organisation is crucial
Just like in the office, organising your workspace and your room is crucial. This doesn't just mean making sure your stationary has a home and your desk is neat, it also means the room is kept as tidy as possible. A scattered room can lead to a scattered brain.
Working from home is also about organising your time. Remember, you don't have to bother with a commute anymore so use that time wisely. Take breaks to ensure you are still being active. 
Consider this: in an office, you would be standing up to go and talk to a colleague, making tea or heading out for a coffee run. Being at home shouldn't stop this.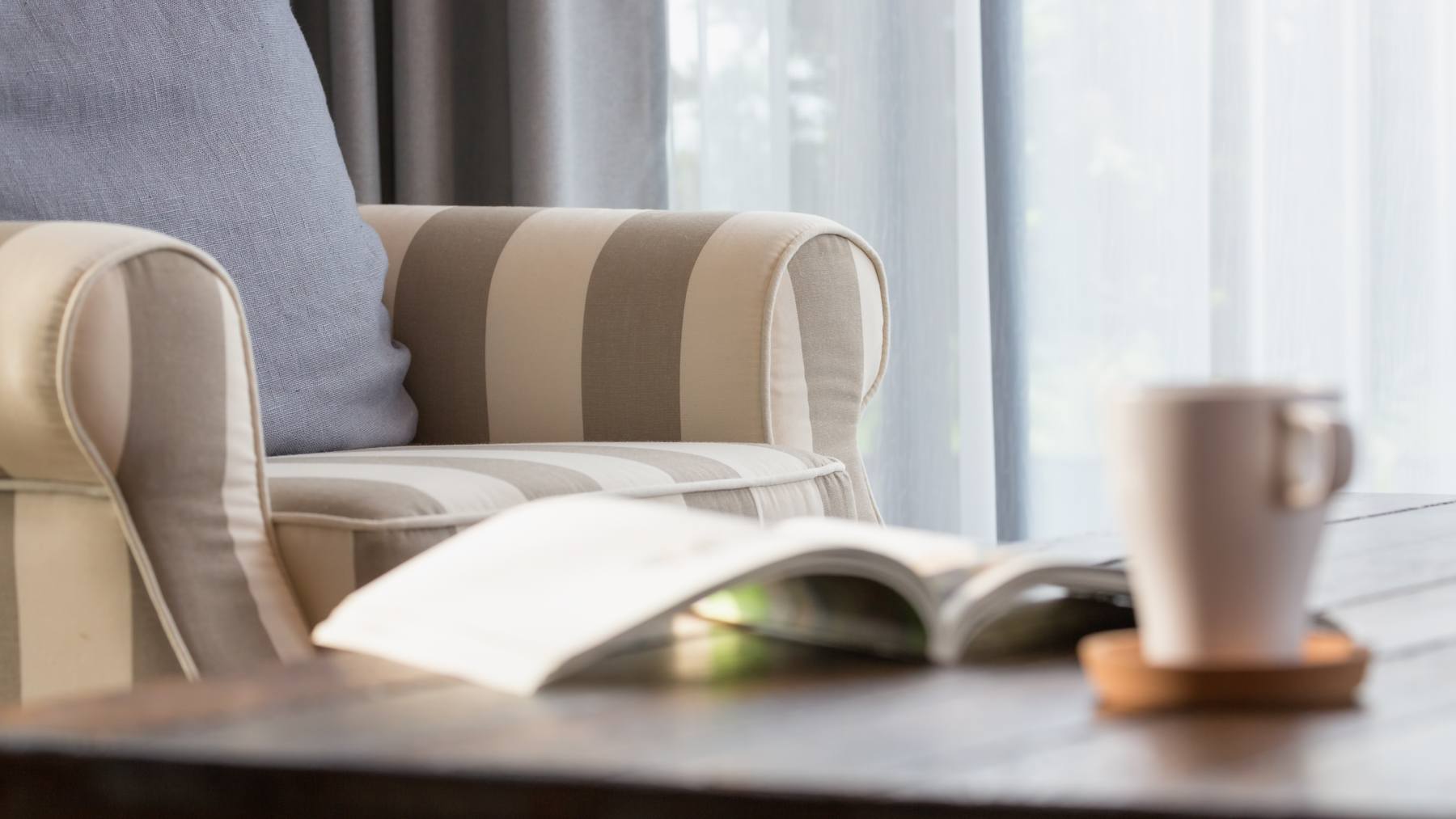 The future is here
The future of work is here. It may have arrived a tad faster than anyone imagined, kicked into gear by a health pandemic, but there's no denying that it is on our doorsteps – figuratively and literally. So take a weekend and organise your workspace because working from home life is here to stay.