Mansours sheer curtains soften either contemporary or classic spaces while filtering light and providing privacy. Sheer fabrics include linen, cotton and hemp yarns finished to a dry natural look. Trivera, polyester and blended yarns can also be finished to a dry natural look while providing superior durability, ease of care and colour fastness.
Sheers combined with solid drapes with double track systems allow for two layers of curtaining to a window. Sheers provide day-time privacy and glare reduction with natural light, while heavy drapes assist with additional light control, insulation and provide night time privacy..
Features
• Day time privacy with natural light.
• Glare reduction when utilising darker toned fabrics.
• Fabric include natural linen, cotton & hemp yarns & trivera, polyester & combination yarns.
• Silent Gliss Wave & Wave XL curtain systems.
• Custom curved tracks suitable for bay and corner windows.
• Pleat styles include flat inverted, box and pinch.
• 5 Year Warranty. Made in Australia.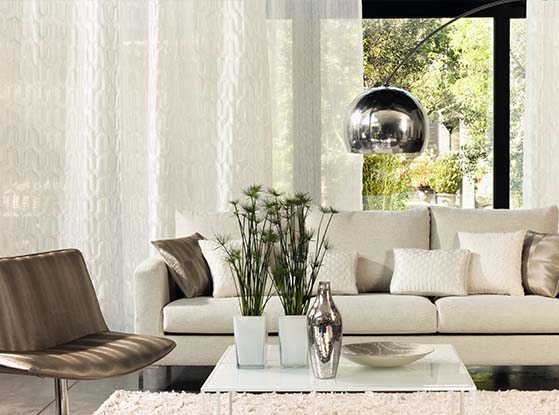 The right curtains can transform a simple space into somewhere extraordinary.
The items below are some of our most popular products.
Want to know more? Call our design experts today for a free quote →
Want to know more?
Call our design experts today for a free quote →