Curtains are just as much a practical item as they are an aesthetic one. As we become more conscious of our living expenses, we are spending more time ensuring that our window coverings are going to increase our home's energy efficiency as well as bring the look of the room together.
Curtains play a large role in creating a comfortable and intimate feel in the room. Playing with sizing, colour pallets and patterns can transform a room – making them appear smaller for a cozier look or large and breezy.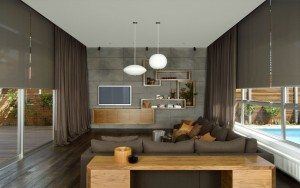 In recent years, there has been a significant shift in both residential and commercial jobs towards curtains. Residential clients want to soften existing blinds by adding drapes with restaurants and hotels bringing back more dramatic and luxurious looks with curtains.

When we ask our clients what they are looking for these are the main points that appear on the brief:
• Wanting a softer look – asking for different textures and a sense of elegance.
• Insulation
• Noise reduction
• Light Filtration
Our most commonly quoted curtains at the moment are s-folds. They create a simple and contemporary finish that work well with both sheers and heavier fabrics. This style is closely followed by an inverted single pleat that has a good structured heading without too much fussy gather. And, if you are looking for a more traditional look, there is still no going past pinch pleat.